Dernière actualité
Charlotte Butruille-Cardew will co-lead, with Nathalie Tisseyre-Boinet, on Tuesday 7th July 2020 from 6:30 to 8:30 pm, the conference on "MARD communication techniques" during the Campus 2020 organised annually by the Paris Bar.
Voir toutes les actualités
International lawyers for a new generation of families
Strategic advice in a supporting environment
International family lawyers, CBBC is recognized as a French leading international and family law firm. We strive to provide a high quality of services and expertise to our clients. We believe in an ethical and humane approach whilst we have demonstrated our capacity over the years to find creative and workable solutions to the difficulties encountered by our clients. We always favor dialogue and negotiated outcomes but we robustly defend our clients if litigation is necessary. 
We favor reactivity and pragmatism to answer clients' needs in all areas of family and matrimonial laws and in some private client's work.  We regularly advise on international nuptial /partnership agreements, separation and divorce, children and parental conflicts, relocation and abduction issues, adoption and filiation, guardianship and inheritance, assets organization and complex structuring, recovery of debts and enforcement, complex financial negotiations. Our team is dedicated to answer with an emotional and strategical intelligence the needs of our clients.
The lawyers at CBBC work in French, English, German, Spanish and Italian. The diversity of the team's legal backgrounds and our past professional experiences abroad ensures a complementary approach to guarantee the very best result for our clients. Some of us are trained as collaborative lawyers and have developed an expertise in difficult and multicultural negotiation. CBBC members participate to conferences all over the world to continue developing our large network of international correspondents.
CBBC favors the diversity of the legal backgrounds of the members of its team to the inclusion for some of them of a solid experience in corporate law. Over the last 20 years we have built up a worldwide network of lawyers and correspondents with whom we have developed an efficient and trustful work relationship. We have developed over the years a solid network of experts to assist the firm's clients such as tax lawyers, notaries, financial experts, mediators, child specialists and psychiatric experts.
The members of the team are recognized for their expertise in international family law and alternative dispute resolutions. Each lawyer at CBBC regularly lectures on these issues and participates to international conferences. All the lawyers at CBBC are either trained or/ qualified in another legal system and have benefited of a solid legal experience abroad. We are members of international organizations such as the IAFL, the Franco-British society,  AJA…. CBBC always welcome foreign lawyers as trainees.
Charlotte Butruille-Cardew will co-lead, with Nathalie Tisseyre-Boinet, on Tuesday 7th July 2020 from 6:30 to 8:30 pm, the conference on "MARD communication techniques" during the Campus 2020 organised annually by the Paris Bar.
1er semestre 2020 Publications
Members of CBBC have produced several articles that have been published:
o On the IAFL (International Academy of Family Lawyers) website: "the relationship between family law and social/digital media: it's complicated" by Clémence Delpech
o On SKO's website: "After the lockdown : a view from France" by Pierre-Guillaume Ducluzeau
 Members of CBBC have also participated in updating the Family Law Guide, the new 2021 edition of which will be published in the second half of 2020, as well as the Lexis Nexis Divorce's Sheet for 2021 edition.
During the period of the lock-down, CBBC remained mobilized. Charlotte Butruille-Cardew has participated in various webinars during May on the following themes:
o On May 15, 2020, in collaboration with EIMA (Ecole Internationale des modes alternatifs de règlement des litiges) : "Intercultural Negotiation, Collaborative Law and Private International Law"
o May 20, 2020, in collaboration with the Lisbon's Bar Association: "Collaborative practice: What does it involve for lawyers?"
o June 12, 2020: "Arbitration & the impact of the global pandemic on French Courts"

Décret relatif à la limitation des déplacements pendant le confinement lié au Coronavirus
In accordance with the provisions of Decree N°2020-260 of 16 March 2020 regulating travels as part of the fight against the spread of the covid-19 virus, it is recalled that until March 31, 2020, all travels outside one's home in France is limited to those necessary (purchase of food products, travel for health reasons ...).
These include travels motivated by questions of exercising visiting and accommodation rights and changes of residence in the context of alternating residences for children, as long as they are carried out in strict compliance with the directives imposed by the French Government (signing of the compulsory form, private transport as far as possible, compliance with any quarantine periods, etc.).
The compulsory form can be downloaded from the following link, being specified that it can also be completed on a free sheet of paper if necessary: https://www.interieur.gouv.fr/Actualites/L-actu-du-Ministere/Attestation...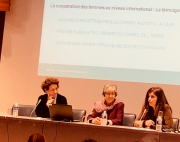 Journée internationale des femmes 2020
Le 5 mars 2020, Charlotte Butruille-Cardew est intervenue à l'Ordre des avocats de Paris aux côtés de Madame Rusen Aytac, Membre du conseil de l'ordre et de Madame Sima Samar, défenseuse des droits Afghane, ancienne Présidente de la Commission indépendante pour les droits de l'homme en Afghanistan et ancienne rapporteuse spéciale des Nations unies sur les droits de l'homme au Darfour, pour un colloque sur le thème de la coopération des femmes au niveau international.
load more news
CBBC Avocats
21 boulevard Saint Germain - 75005 Paris
Métro
Maubert-Mutualité ligne 10 / Jussieu lignes 7 ou 10
Accueil
du lundi au vendredi de 9h à 19h
Standard
+33 (0)1 53 35 87 50
Fax
+33 (0)1 53 35 00 73
Mail
contact@cbbc-avocats.com
CBBC recherche des personnalités qui allient la rigueur à une approche inventive du droit international et un bon esprit d'équipe. N'hésitez pas à nous envoyer votre CV à contact@cbbc-avocats.com
Pour nous contacter ou avoir des renseignements complémentaires, merci de bien vouloir envoyer un email à contact@cbbc-avocats.com